SPL Series Rail Type Wire Connector Quick Connection Terminal Press Type Connector
Product Detail
Product Tags
Terminal Block Connectors
Terminal block consists of a piece of metal enclosed in insulating plastic, with holes at both ends for inserting wires, or screws for tightening/releasing. Terminals can be divided into: European terminal series, plug-in terminal series, transformer terminal, spring type terminal series, rail type terminal series, etc.
The Din rail use terminals are connected in the same way
QUICK CONNECT TERMINAL
It is safer to upgrade the quality without worry
environmentally friendly insulation │ more in and more out 丨simple and fast丨strong wiring
The wiring is convenient, and the crimped copper terminal is connected with the conductor.
Widely used in all kinds of lamps, industry and household appliances distributioncabinetanddistributionbox
Item.No

Rated voltage

Rated current

Wire diameter

Strip length

color

Dimension

V

A

mm²/AWG

mm/in

L*W*H(mm)

VSE-K411A

400

32

0.08-4.0/28-11

10/0.4

Grey

43*7.5*31

VSE-K412A

43*12.5*31

VSE-K413A

43*17.5*31

VSE-K411W

400

32

0.08-4.0/28-11

10/0.4

Transparent white

43*7.5*31

VSE-K412W

43*12.5*31

VSE-K413W

43*17.5*31

The customized products:VSE-412A2、VSE-412W2、VSE-413A3、VSE-413W3
The Din rail use terminals are connected in the same way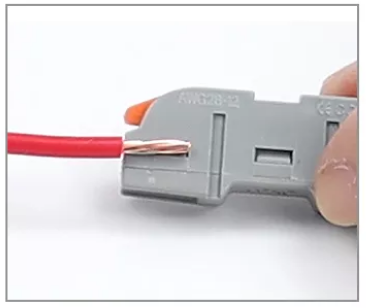 1. Strip the conductor to 10mm/0.4inch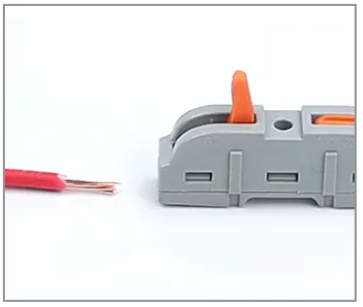 2. Pull the handle to 90°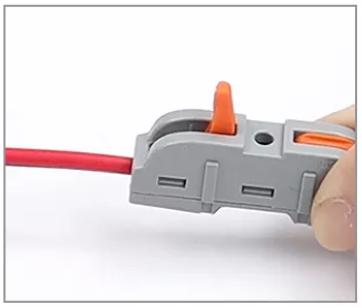 3. Put the wire into the wiring hole
4. After insert the wire , put the handle down,
install the terminal on the rail
---
Previous:
Factory-Direct-Sale PCT-215 Wire Connector Assortment Pack Conductor Compact Quick Wire Terminal Connectors
---